Return to Index The Catholic Faith
Return To Level Four Topic Index
Home Page
"Pray at all times in the Spirit, with all prayer and supplication" (Eph 6:13).
As Christians we are called to sanctify our lives and unite ourselves with Christ. The two principal means for accomplishing this are prayer and the sacraments.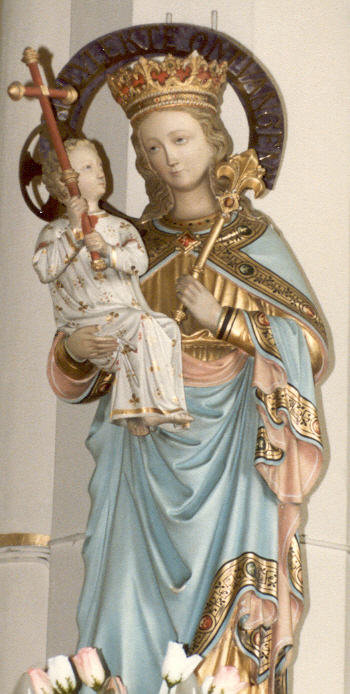 Prayer is the lifting up of our minds and hearts to God. Just as the spoken word is our way of communicating with friends, so prayer is our way of conversing with God. Every thought of God - short or long - can be a prayer. For example, we might acknowledge the sovereignty of God or express gratitude to him for blessings he has given us. Or we might simply express our love for him. All of these are prayers.
Prayer is essential to our spiritual lives, as we can see from the Gospels. During his public life Our Lord often prayed. For example, he prayed in the desert before beginning his public ministry, he prayed on the mountain before he was transfigured, and he prayed in the Garden of Gethsemane on the night before he died. By these actions he taught us the importance of prayer.
But Jesus did not only teach us by example; he frequently spoke to the apostles about the necessity of prayer. At one point he told the apostles that they ". . . ought to pray always and not lose heart" (Lk 18:1). Here he told us that we need to pray - even when it is difficult. There are times, for example, when various thoughts may distract us from our prayer. Such distractions may discourage us and tempt us to quit, but Jesus tells us that we should continue. Although these distractions are not always our fault, we should still work to draw our thoughts back to God as a sign of our love for him.
How should we pray? First, before we pray we should prepare ourselves to turn our thoughts to God. We should try to dismiss all other thoughts from our minds and direct our attention to God. Sometimes visible reminders - such as statues of paintings - will help us to concentrate on God. Next, we should pray with humility, like the tax collector in one of the parables told by Jesus (Lk 18:9-14). In addition, we should have faith and confidence that God will hear our prayer. As Our Lord said to his disciples at the Last Supper: Truly, truly, I say to you, if you ask anything of the Father, he will give it to you in may name (Jn 16:23).
Fourth, we should pray with resignation to the will of God, as Our Lord did on the eve of his death. That means that we accept how he answers our prayers. Finally, we should pray with perseverance. This means that we should keep on praying even if it seems as if God has not heard our prayer. To illustrate this point, Our Lord told the following parable:
Which of you who has a friend will go to him at midnight and say to him, "Friend, lend me three loaves; for a friend of mine has arrived on a journey, and I have nothing to set before him": and he will answer from within, "Do not bother me; the door is now shut, and my children are with me in bed; I cannot get up and give you anything"/? I tell you, though he will not get up and give him anything because he is his friend, yet because of his importunity (persistence) he will rise and give him whatever he needs (Lk 11:5-8).
There are two forms of prayer - mental and vocal. Mental prayer is that which is said interiorly. Such prayer unites our hearts with God while we meditate on his holy truths. It usually begins with meditation - for example, on a passage from Scripture or one of the mysteries of our faith - which stirs our hearts to love God and unite ourselves with him. A good opportunity to pray in this manner is after we receive Our Lord in Holy Communion.
Vocal prayer is said by spoken words - alone or with others. However, the words alone are not prayer, as the prophet Isaiah reminded the people of the Old Testament: This people draw near with their mouth and honor me with their lips, while their hearts are far from me (Is 29:13). We must join our hearts and minds to the words that we speak.
Vocal prayer may be formal or informal. Formal prayers are those that follow a set pattern or formula. These prayers use words composed by someone else - for example, Our Lord, the angel Gabriel, or one of the saints. The Our Father, the Hail Mary, the Memorare, and the Act of Contrition are all examples of formal prayers. The Psalms of the Old Testament, written by David and inspired by God, are also formal prayers. There are many times when such prayers help us to communicate our thoughts to God. They show us how we ought to pray. They lift our minds and hearts and fill us with heavenly desires and right attitudes. These prayers also unite us with other members of the Body of Christ, who pray the same prayers.
At other times it is good to use our own words to pray. This is called informal prayer. It allows us to talk to God sincerely about ourselves, offering to him our particular joys and sorrows and asking him for the special help we need.
Prayers may be said for four reasons. Prayers that primarily acknowledge God's greatness and our dependence on him are prayers of adoration. While all of our prayers should begin as prayers of praise, some, such as the Sanctus (Holy, Holy, Holy) of the Mass are solely prayers of adoration. The second reason for prayer is to give thanks to God for the blessings he has given us. These are prayers of thanksgiving. We are reminded of the importance of giving thanks during each Mass. Before the Eucharistic Prayer the priest proclaims, "Let us give thanks to the Lord our God", to which we reply, "It is right to give him thanks and praise." Contrition is the third reason for prayer. In a prayer of contrition we acknowledge our sins and pray to obtain forgiveness from God. When we say the Confiteor (I Confess) at the beginning of Mass we are saying a prayer of contrition. The last reason for prayer is petition. This is the most common prayer; in fact, many people only remember to pray to God when they need something. Prayers of petition are those in which we ask God for blessings for ourselves and others. It is fitting that we should ask for God's help since we do need it for our life on earth and in order to reach Heaven. The Prayers of the Faithful during Mass are examples of prayers of petition.
Let us now consider some of the formal prayers that are important in the Catholic Church.
First in importance are those prayers that are part of the Church's liturgy - the Mass and the Liturgy of the Hours. The Mass is the perfect prayer, because it is the offering of Christ to his Father in Heaven. The Mass is also the supreme act of worship, by which we thank God. Because the Mass is the same sacrifice as that of Calvary, it is the perfect means of making satisfaction for our sins. Since the Mass is in memory of the Resurrection, it is a prayer of thanksgiving. Finally, since the Mass is the perfect sacrifice, it is the best way of petitioning God.
The Liturgy of the Hours is also an important prayer. It is a prayer of praise, by which we can sanctify our entire day. As we have seen, certain members of the Church - priests and religious - are required to pray the Divine Office each day. But we also are invited by the Church to join in this prayer.
One day the disciples said to Jesus, "Lord, teach us to pray", and he taught them the Our Father, or Lord's Prayer. This prayer contains an outline of all the qualities that should be present in our prayers and all these things that we should ask of God. Hence, it is not just a wonderful prayer, it is also a model for all of our prayers. It is so rich in meaning that we could meditate on it all our lives. Let us briefly examine the statements found in the Our Father.
Our Father, who art in Heaven,
We begin this prayer by placing ourselves in the presence of God, recognizing him as our Father, but also as God.
hallowed be thy name,
Next we adore God, as we ask that his name be made holy and honored on earth.
thy Kingdom come,
We pray that his Kingdom - the Kingdom of Christ, the Church - may grow and be spread throughout the earth.
thy will be done. . .
We end the first half of this prayer asking that God's will - not ours - be done. To all three of these first petitions we add "on earth as it is in Heaven", for God's name is honored in Heaven; in Heaven his Kingdom has been spread; and finally, in Heaven his will is done.
Give us this day our daily bread,
We pray now for ourselves, asking God to give us the things we need - both physical and spiritual.
and forgive us our trespasses as we forgive those who trespass against us.
We acknowledge our sins and ask that God in his mercy forgive us in the same measure as we have forgiven those who offend us.
Lead us not into temptation, but deliver us from evil.
We end the prayer asking God to help us in times of temptation and to strengthen us when we face occasions of sin.
Another great prayer that the Church especially recommends is the Rosary. This prayer has been part of the spiritual life of many Catholics - mainly in the Latin rite - for almost eight centuries. The Church has encouraged us to say this beautiful prayer by dedicating one month - October - to the Rosary. The Rosary combines both mental and vocal prayer. It is divided into twenty mysteries, or episodes, from the lives of Jesus and Mary. As we recite the vocal prayers - One Our Father, ten Hail Marys, and one Glory Be for each mystery - we meditate on the various events from the lives of Our Lord and his Mother.
It is important to develop times for prayer in our lives, so that we may fulfill our call to holiness.
Used with the permission of The Ignatius Press 800-799-5534
Return to Index The Catholic Faith
Return To Level Four Topic Index
Top
Home Page